CLICK HERE TO VIEW NEWSLETTER ARCHIVES FROM PREVIOUS YEARS
April 6 – Happy Arizona Gives Day! Please Consider A Donation To Southwest Musical Arts Foundation.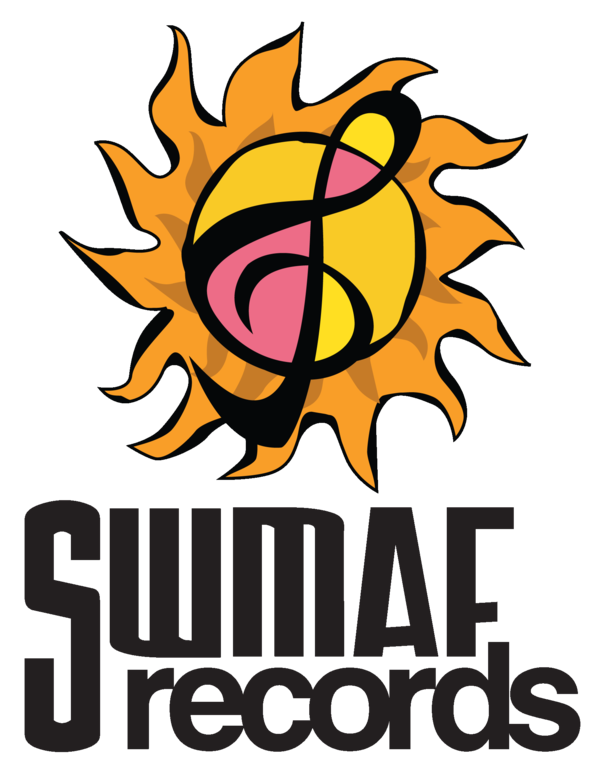 Happy Arizona Gives Day! Please consider a donation to 
Southwest Musical Arts Foundation
. These are very tough times and we realize that many of you will not have the resources to donate. But if you do have the means, every bit of your donation will go towards preparation of the next batch of Vaults recordings. We have master tapes from over 100 sessions recorded over three decades that we feel need to be released. Many of the artists that we documented are no longer with us. We have been transferring numerous sessions from various formats (tape and hard drive) to ProTools format. We will be releasing batches of 3 or 4 albums annually if we can afford to do this. We are looking at unreleased material by Louisiana Red, Pinetop Perkins, Luther Tucker, Smokey Wilson, Robert Lockwood, Eddie Kirkland, Big Jack Johnson, Robert Bilbo Walker, Honeyboy Edwards, Carol Fran, Sam Lay, Magic Slim and much more! But all of this involves attention to detail as well as the huge expense of studio time. Each $100 donation brings us about an hour and a half of studio time so you can imagine how that adds up. If you do have the means a desire for a donation please either send by PayPal or mail.
The PayPal link is:
The mailing address is:
Southwest Musical Arts P.O. Box 3310 Scottsdale, AZ 85271
Please make the check out to Southwest Musical Arts Foundation.
Thank you to everyone for all the support! Look for many more future volumes from the Vaults Series!
March 12 – New Bob Corritore & Friends Album Coming May 14
NEW ALBUM! Be on the lookout for a May 14, 2021 release of all newly-recorded material called Bob Corritore & Friends/Spider In My Stew.
It features an amazing array of guests: Lurrie Bell, Sugaray Rayford, John Primer, Johnny Rawls, Oscar Wilson, Bill and Shy Perry, Alabama Mike, Diunna Greenleaf, Francine Reed, Junior Watson, Kid Ramos, Willie Buck, Bob Margolin, LA Jones, Adrianna Marie, Johnny Main, Fremonts, Bob Stroger, Fred Kaplan, Doug James.
This new album might be Bob's best so far! Such a wide array of talent, wonderful songs, and everyone gave heartfelt performances. Plus it features some of Bob's coolest harmonica playing to date! And check out the amazing album art by famous illustrator Vince Ray! To see the complete album artwork with all panels, 
click here
.
Right now you can just pre-order the downloads, but in a week or so you should also be able to pre-order the CDs! And if you're interested in buying a T-shirt with this design, we can sell that to you right now! Just reply to this email if you are interested!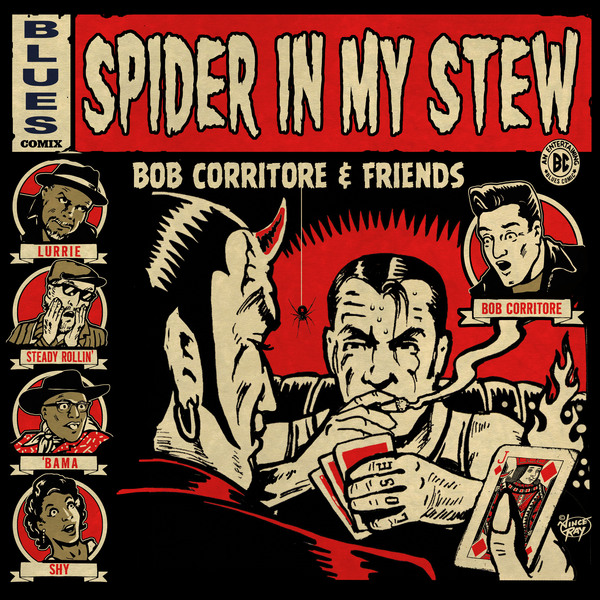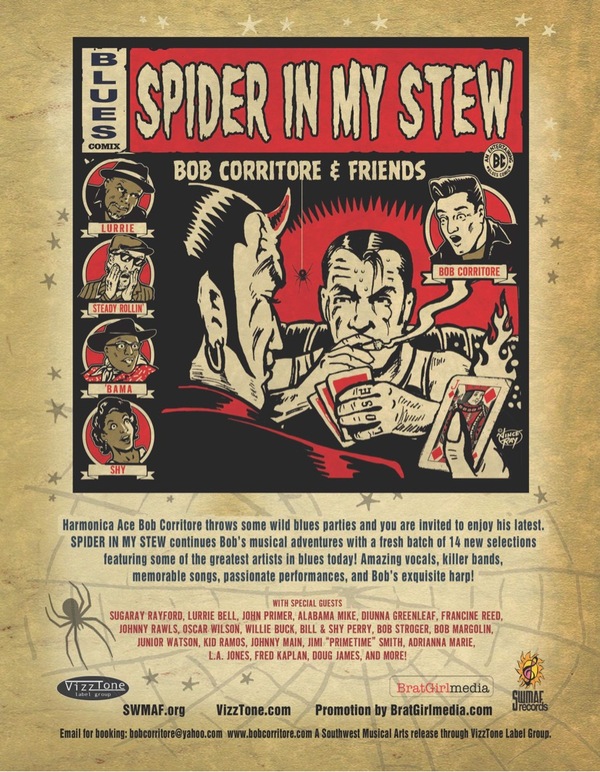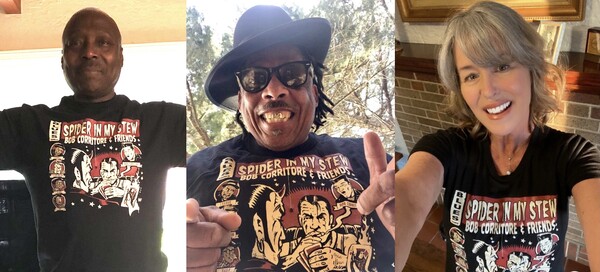 March 9 – The Gypsy Woman Told Me Is Living Blues Magazine #2 Album Of 2020!
John Primer & Bob Corritore / The Gypsy Woman Told Me is the Living Blues Magazine #2 album of 2020! It's truly a wonderful honor for this wonderful album to receive. After many glowing reviews and much radio airplay this recognition is an incredible honor. Thank you Living Blues Magazine!
January 11 – New Bob Stroger Photo Tribute Page!
Bob Stroger defines Chicago blues electric bass playing. He has worked with all of the greats in the business including Otis Rush, Sunnyland Slim, Jimmy Rogers, Louis Myers, Snooky Pryor, Billy Boy Arnold, Bob Margolin, John Primer, Pinetop Perkins, Hubert Sumlin, Willie "Big Eyes" Smith and so many more. He is also a fine singer. Bob Stroger recently celebrated his 90th birthday and he's still in the prime of his playing! Born in Hayti, Missouri on December 27, 1930. He moved with his family to Chicago at age 16 and fell in with Blues! His great bass playing has been in demand since the 1970s. Please enjoy this photo gallery honoring the great Bob Stroger! We present a collection of numerous photos of Bob through the years in some of the most magnificent and legendary blues bands. To enjoy this photo tribute page 
click here
.
Please note that if you have any cool photos of Bob Stroger please send them by for possible inclusion. Please send the highest possible resolution. We are especially looking for any photos from the American Folk Blues Festival from years 1980 and 1981.