Featured Interview – Ben Levin
Every so often, people start wringing their hands in despair over the fate of blues music. One reason that always figures prominently in those discussions is the apparent lack of interest in the music by the younger generations at any given point in time. These days it is hard to believe that the argument holds water, not with brilliant young players like Chistone "Kingfish" Ingram, Jontavious Willis, Marquise Knox, Buffalo Nichols, Melody Angel, and Andrew Alli making beautiful music. Another name to add to that list is Ben Levin, the blues piano player, singer, and songwriter who has come a long way in the last seven years.As a youngster, Ben's older brother was really into sports, while Ben had little interest except for a brief turn at soccer. Trying to find something for their other son to do outside of school, Ben's parents signed him up for piano lessons with a classical instructor when he was about six years old. It did not go well."I absolutely hated it. Sometimes I would be crying on the way to a lesson. My Dad finally let me quit. But then he hooked me up with one of his former students who played guitar and taught a little piano. He was able to get me really interested in music. When he came to the house, he would ask me what I wanted to learn. We ended up working on whatever was on the radio at the time that I enjoyed listening to, bands like Coldplay."He left after a year, so when I was eight years old I started with my current mentor, Ricky Nye, who taught me all of the fundamentals and basic music theory, like the circle of fifths. Then we got into blues, which really grabbed me. He showed me the 12 bar form. What I really loved was that every couple weeks he would send me home with a new CD to listen to, which is how I got into the three kings of boogie woogie piano – Pete Johnson, Meade Lux Lewis, and Albert Ammons. He also turned me on to Otis Spann, Little Brother Montgomery, Jay McShann, Professor Longhair, and Ray Charles."Ben's father had met Nye through the local Cincinnati blues scene. Nye taught piano but due to some bad experiences, didn't teach kids."Ricky was going to teach me as a favor to my Dad, but when he found out I was only eight, he wasn't real keen on giving me lessons. Piano is his main thing, but he is also a great organ player, and a really great drummer. He started on drums, then learned accordion before switching to piano. He is a monster player who has toured internationally and has numerous releases under his name."Ricky has so much jazz in his playing, emulating the swinging Kansas City style like Jay McShann so perfectly. Of course, he is a boogie woogie expert who can play an hour long set of that music, which I can't do. There is so much complexity in his music, which is a level I hope to achieve some day. But whatever he does, the roots always go back to the blues."Ben's father, Aron Levin, is a blues guitarist who had started his own band, the Heaters, in 2000, after the family had relocated to Cincinnati. As a youngster, Aron wanted to play drums, primarily because the kid down the street had a beautiful red drum set. His mom turned him down, so he fashioned his own kit out of her pots and pans, which also did not go over very well.
"Mom said, how about guitar. I asked for an electric model, and she said no. Around the age of fourteen, she finally bought me a cheap acoustic guitar. She would drive me to lessons every week. I was into the Rolling Stones and Led Zeppelin, getting an education in the blues without knowing what blues music was. When I was 16 years old, I mowed lawns all summer and saved the money so that I could buy an Epiphone electric guitar, which I still have 40 years later.""I have never been a full-time musician as I was following a very non-linear path to becoming a college professor. Long before Ben came along, I started playing in bands. We left Topeka, Kansas after Ben was born to move to Cincinnati. The Heaters were a weekend band."When he was 11 years old, Ben had a chance to sit in with his father's band at a local bar."My mom, Margi Larson Levin, would drive me to the bar. My Dad would have the keyboard all set up. At that point, I only had enough material to do a 30 minute set. It was so fun! I showed up, played my half hour, and then went home. My Dad had to tear everything down at the end of the night by himself. I was living like a star!"That went on for a couple months. Then the owner of the bar said, hey Aron, when Ben leaves, we lose half of the audience. Is there any way he can stay later? So then we had to work up a whole set, and I was playing all night, plus we started playing different venues. By the time I was 15 years old, I was getting serious about doing my own gigs regularly and started taking over the band. I loved playing music and wouldn't trade it for anything."Some people might think there would be some friction between father and son as the younger Levin took over what had been his father's band. Truth be told, there were a few rough spots."Dad had mixed emotions. He was proud, and had been grooming me to do just that. But he still struggles with it at times to this day. Sometimes I get on him, telling him not to talk so much in between all of songs. He is a Marketing professor by day, so I remind him that the gig is not a lecture hall! I love playing with him. The connection we have translates on stage. He is an entertainer who knows how to connect with an audience, what it takes to keep them happy. I wouldn't be the band leader I am today without playing so many gigs as a sideman to my Dad."Aron knew that he was ready for a change."In the beginning, it was the novelty of this cute-as-can-be 11 year old playing fairly proficiently. Ben was learning. About five years later, he was playing with me, and sometimes without me, just Ben and a drummer. Him taking over the band was not an unfriendly coup. I was burned out on gigs. Ben ignited my passion for the music. I am happy to be a sideman. I trust him with everything. He has made it so much better. It is the dream blues band I always wanted to be in, and to be able to do it with Ben makes it extra special."In 2017, Ben was booked at the Festival International de Boogie Woogie in LaRoquebrou, France, his first international show. Nye strongly recommended that his protege not go overseas empty-handed, that he should have a recording to sell at the festival. So Ben and his father started making plans.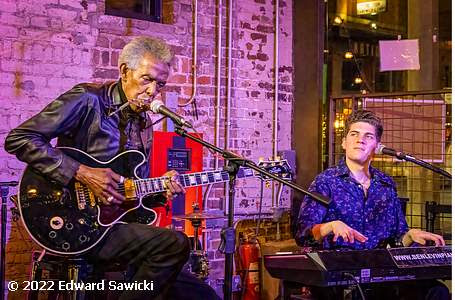 "I was really nervous, as you would expect of a 17 year old, but we went into the studio for the first time. It was certainly new and different. Once everybody started playing, I relaxed and it was cool. We cut twelve songs, four of which I wrote, in two or three days. I had the discs by July and took a suitcase full of them to France in August."I had broken up with my first girlfriend right before the sessions. The emotions I was feeling helped me write two of the songs, "Little Girl" and "Have You Lost Your Mind". As it turned out, the funny thing is that I went through another breakup right before we recorded my second album, Before Me. My bass player told me he thought my Dad was paying the girls to dump me before we recorded so that I would write some good songs!""I learned a valuable lesson on that trip. After my set, I was trying to sign CDs as people bought them. The mistake was trying to personalize each one. I was having trouble understanding people with the accent, and to spell French names like Jon Jacques! By the end, I had lost a lot of people because they got tired of waiting. My line definitely got shorter. My Dad commented that it was nice that I wanted to personalize the CDs, but in the future, if I have a long line, just sign my name."If you listen to Ben's Blues without knowing anything about the artist, you would quickly find yourself wondering where this veteran performer had been hiding. There was the smooth, confident vocals and some truly fine piano playing that had echoes of Spann, Charles Brown, or Professor Longhair. The influences were there, but certainly not slavish imitation. And the original songs sounded just as good as the covers. Learning that all of that quality music was the work of a 17 year old on his first album left many listeners stunned, not to mention overjoyed at such a rare find. Levin received two nominations for the 2018 Blues Blast Music Awards, one in for New Artist Debut Album, and the other for the Sean Costello Rising Star Award, which he has been nominated for two additional years.After finishing his senior year of high school, Levin continued playing local gigs. He also found time to have a great adventure."Two international friends flew in to join me – Takuto Asano, a guitar player from Japan, and Ben White, a harmonica player from England. We played some local shows, then hit the road. I drove us down to Clarksdale, MS for the Pinetop Perkins Foundation's Blues workshop. It was my first proper road trip with friends. It was so much fun. We were listening to blues music the whole trip, stopping at roadside food trucks to eat. The workshop was great, and on the way back we stopped in Memphis for a night so we could go to Al Green's church for a service. It was some of the most fun I've ever had in my life. It was a great summer of growth".That fall, Levin started studies at the University of Cincinnati while still working a regular gig schedule. Late in the year he returned to the studio to start work on his next album, this time enlisting the aid of two veterans, guitarist Bob Margolin and Bob Corritore on harmonica in addition to the legendary session drummer for King Records, Phillip Paul, who recently passed away. That album, Before Me, showed that his first album was no fluke, garnering a nomination for a Blues Music Award in the Best Emerging Artist Album category."Half of the songs are my originals, and there is more straight-ahead Chicago blues on it because that is what the two Bob's excel at. We did the James Cotton instrumental, "Lightnin'," and the Muddy Waters version Big Bill Broonzy classic, "I Feel So Good". I really wanted to stretch out and take on a new challenge by doing Jimmy Witherspoon's version of "Confessin' The Blues". It took me forever to get the intro right on that one. I was somewhat embarrassed having to do more takes than I would have liked, especially with Margolin and Corritore there. But we got it. The title track was my attempt to write a song with a New Orleans swampy feel.
"You learn a lot being in the studio with older musicians. Phillip Paul had so much energy, given that he had been a studio musician for so long. My favorite story is from an evening session we did where we were all getting tired. My Dad looked over at Phillip, pointed at him, and asked if he needed a break. Phillip looked at my Dad, saying, no, do you need a break? He was 91 years old. We had a blast. The album got picked up by the VizzTone Label group. Richard Rosenblatt and Amy Brat have helped my career immensely. That album was more on the radar for radio airplay and reviews."In the first part of 2020, Levin was living the good life. He had a steady stream of gigs that kept him busy, having a ball. He also moved out of the house into his own apartment. Then the virus brought everything to a grinding halt."We refer to the third album as our Pandemic record. For a couple weeks, I was eating out almost every night. Dad said we needed to write a song about that. I wanted the title track, Carryout Or Delivery, to be a tongue-in-cheek, Louis Jordan style song. The last track on the record, "Time Brings About A Change," was written by Floyd Dixon. It is a heavy song that each day has more and more meaning. I wanted to end the record with that one. I also play some on the Hammond B-3 organ and Ricky loaned me his 1960 era Wurlitzer piano that I used on a Ray Charles style soul song. It was fun to branch out again."Levin has been working on a degree in history, something he feels it goes hand in hand with blues music."Once you get interested in the music, you start investigating. What year was the song recorded? Where was it recorded? Who played on the session? Was it a hit? Becoming friends with Phillip has been neat because I have been helping him track down his personal discography. He wasn't credited for a lot of stuff, nobody was given credit. After listening to him play with me, I can hear his style of playing. I have been able to help identify an additional 15-20 recordings that he played on but didn't get credit for. It is interesting to do this type of archival, historical work."For the last couple of months, I have been interviewing lots of musicians. The goal is to write some articles and eventually write a book. It started with Phillip, who allowed me to conduct several interviews with him. I did one with Walter Cash, a bass player who has played with everyone locally, primarily Albert Washington. I have also talked with Bob Stroger, the great bass player from Chicago."Last semester I took a class focusing on Black women in American history. That lead me to try to interview as many Black female musicians as I can. The most interesting woman I have talked to so far is Mable John, the older sister of Little Willie John. She is a great singer in her right. I had been connected with her by phone for several months. I was headed out to Los Angeles to visit family, so she told me to come by her apartment so that we could do the interview in person. I learned so much about her and her brother. It was beautiful."In his upcoming semester, Levin will be starting on an independent study program with a professor who will help Levin write a piece for a historical journal. His plan is to apply for a PHD program, to use all of the information he is gathering in his dissertation, and ultimately write a book that he has planned. He also hopes to take a break before starting his PHD program to find out what touring is like these days.In November of 2020, Aron contracted Covid. Ben came down with the virus two weeks later. After several days, Ben started to feel fine. Aron was not so lucky. Ben still has a hard time remembering those days."He just kept getting sicker and sicker. The doctors gave him an inhaler, which didn't help. My Mom used to be a nurse. She had a pulse oximeter that measures the oxygen in the system. One night the reading was so low that she called an ambulance to take him to the hospital up the street. After a couple days, they had to put him on a ventilator."He was on the ventilator for about twelve days. It was a close call, very scary. What made it harder was that we weren't able to visit him due to Covid restrictions. It was terrible to not be able to be with your loved ones. One day the nurse called to say she had been able to take Dad off the ventilator, that Dad's breathing had stabilized. It was a slow recovery from there. When I was able to visit, I'd take some music so that we could talk and listen. Before he could walk, he was talking about writing songs, and going into the recording studio. That was a big part of what kept him going as he was fighting for his life."
Aron knows how close he came to fulfilling the old cliche about leaving it all on stage because it could be your last time."I know that first hand, as it almost was the end for me. If I had contracted Covid six months earlier, I probably would have died. They didn't know about keeping people prone on a ventilator or had antibody treatments. I was in the hospital for six weeks through the holidays. I spent Thanksgiving 2020 in a coma. When you spend that much time in a hospital bed, everything atrophies. That meant I had to relearn everything, including eating, which we think of as an innate thing."I had to relearn how to stand up, how to walk. Everything had gone to sleep while I was in the coma. Once I got home, I tried to play guitar. The muscle memory was still there. I knew what I was supposed to do. But all of the muscles were gone. I became very sad because I could not get my fingers to move at all. I was frustrated and depressed."But I went back to playing the "Cowboy" chords, the stuff I learned when I first started. Eventually I got back to my mediocre white boy playing self! Then I just had all of these ideas. It was like my brain was re-awakened. So I told Ben we needed to make a new record to tell our story. It is our most personal project, and means the most to me."Ben's latest release, Still Here, certainly chronicles his continued growth as an artist. The title track and another original song, "Christmas Rain," eloquently express the full range and depth of the emotional turmoil that the younger musician experienced during his father's struggle to survive."After all that we have been through, this album has that gut bucket down-home feel. I stick to the piano, but there a variety of configurations like piano & guitar on some songs, one that is piano & drums, and some with the full band. The opening cut, Jimmy Witherspoon's "Love and Friendship," was the most difficult song I have learned so far. It took days, weeks for me to get that piano part right.It reminded me of cramming for a final exam. I practiced it all night before the recording session. My song "Her Older Brother," is based on a true story."Lately I have doing some special shows with artists like Bob Stroger and Little Jimmy Reed. I really want to connect with musicians of that generation while I still can. To me, Little Jimmy Reed is as talented as anybody but he doesn't have anyone helping him get gigs in this country. He can tour all over Europe. He told me that he has never been to Chicago. He is over 80 years old but wants to work, and is very spry."Also, there is a lot of music history in Cincinnati that needs to be uncovered. There is a local piano player and singer, Sonny Hill, who is originally from Helena, Arkansas. He told me a story the other day that blew my mind. When he was a kid, he sang in a gospel group that used to sing on the radio r right after the King Biscuit Flour Hour. So he met all of those guys that played on that program like Robert Nighthawk, Houston Stackhouse, and Pinetop Perkins. Sonny said Pinetop bought him his first Coca-Cola. I really want to record with him because Sonny has such a beautiful voice."I want to do it all. My goal is to become a professor while playing gigs on the weekends and during the summer. I see history as an opportunity to tell the stories of all of these great musicians who otherwise wouldn't have an outlet. I had a professor tell me the other day that oral history is becoming more and more popular. Instead of a historian hearing a story, analyzing it, and then retelling the story, let the person tell the story like they are in the room speaking to the reader. This city has done a lot for me, so I want to give something back. Through it all, music is definitely my driving force."Visit Ben's website to see where to cahth at live show at https://benlevinpiano.com
Blues Blast Magazine Senior writer Mark Thompson lives in Florida, where he is enjoying the sun and retirement. He is the past President of the Board of Directors for the Suncoast Blues Society and a former member of the Board of Directors for the Blues Foundation. Music has been a huge part of his life for the past fifty years – just ask his wife!